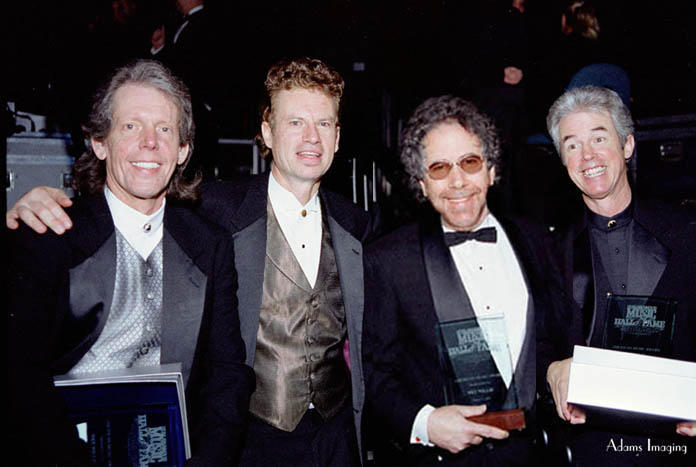 (l-r: Lewis Ross, Jimmy Hall, Rick Hirsch, Jack Hall. Not pictured: John Anthony, et al; we will post a scan with all members as they arrive.)
The March 17-18 Weekend was an event to be remembered in Willie History. The incredible reception the people of Mobile and the Alabama Music Hall of Fame gave Wet Willie certainly warranted adding a special link to this website in recognition of all those who helped in so many ways to make "beyond perfect" a reality.
In particular, great kudos and unending thanks from WW to Mr. David Johnson, Executive Director of the Alabama Music of Fame. He put together an event that rivaled any national TV Award program in its production, quality, content and execution. Really world class job from him. Also, we have to mention the courtesy and hospitality afforded us by the Adams Mark Hotel and its 24 Hr staff. There are hotels rated "five star" that could use some advice from these people. The stage crew and sound/lights crew at the actual event are to be commended as well for their adroit professionalism and assistance. We thank Travis Hall and Butler Sheldon for their incredibly successful efforts at literally putting together all the logisitcs for a Wet Willie reunion gig at what is one of the greatest venues and just all around special places anywhere, Judge Roy Bean's, Daphne, Alabama, with a stage planted in the middle of a grove of towering pines and live oaks dripping with Spanish Moss. (We'll attempt to get some shots of "the Bean" interspersed here..) The man behind the Bean is Jack West who has been a long time friend to Wet Willie and all the musicians in the area. Thanks to him as well for his input and help. (But, Jack.... about that loose goat running around out there...? ) Thanks to ABSOLUTE ENTERTAINMENT AND PRODUCTION SERVICES. and Lee Abbet for helping make the JRB gig a night to remember.
We also acknowledge the Mobile Register's coverage of both events. Special thanks to the staff photographers, John Adams, ADAMS IMAGING, and Kate Mercer, who captured some great shots of WW during the entire course of the weekend. We'll attempt to put some of their work here as well, if we can secure permission from the Register. We would also like to include a fan who's generosity and kindness in further documenting these events was spectacular, Mr. George Fascher, who is probably going to be embarassed that I would mention his name here. (Sorry, George...) He has put together a rich photo journal of Wet Willie that reaches back to the very early Seventies. Many of the scans seen on this website are the result of his amazing photography and great generosity.
Finally, we want to say thank you to our families and friends for their undying support through the years. They will never know how much this has meant to each of us as musicians who have been able to pursue the work we care about most. Without them, none of this would be possible.